Time to say goodbye
The time to say goodbye has started. Last Thursday I said goodbye to one of my best friends. She has gone skiing so she won't be here next week to come to my farewell party. And on Friday I said goodbye to another friend who goes skiing (why does everybody just go skiiing these days). Today will be quite painful too. DON'T LAUGH. I am a seasonticket holder for
Feyenoord
, a football team from Rotterdam. I was there when they won the UEFA Cup 2 years ago, it has left me a most wonderful memory. Anyway, it will leave me very very sad to leave it behind. The matches every 2 weeks, he yelling, cheering, the atmosphere in one of the most beautiful and historic stadiums in Europe.
Some people laughed when I said that Feyenoord was the one thing I would miss most in England. They said: You can support an English team and buy a seasonticket? As if that is the same.
I remember 1999 when Feyenoord played Juventus in the Champions League. I was in Australia at the time. I was lying in bed at 7am local time. Connected to the internet I listened live to the report on the radio, from the other side of the world. And I cried. We beat Juventus 2-0 and I wasn't there.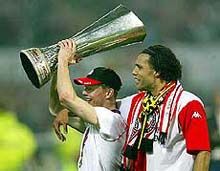 I remember when Feyenoord played the semi-final of the UEFA Cup in 2001. Against Inter Milan in our home stadium. It was the most beautiful thing I have ever seen. Only about 200 Italians and the rest of the stadium was ours. With fireworks, singing and a win. A beautiful win.
I slept on the street for 24 hours, in front of a shop to get a ticket for the final. And I got one. I was so happy. And thenI won a prize. VIP-Tickets to the final. Cool. So I sold my own ticket. But when we got to the stadium, things had gone wrong and there were no tickets for the prizewinners. They had to buy them on the black market. So instead of between Feyenoord supporters, I ended up with 10 people between the German Borussia Dortmund fans. Most people say I should be happy that I was there at all. But I cried. I cried almost all the way through the match. I could see the section where I would have been had I not won that stupid prize. I would rather have watched the match at home or in a pub with friends anf fellow Feyenoord fans than where I was now: In my own stadium, being yelled at by Germans. I cried. It was not the most beautiful moment of my life. Something it should have been when we won 3-2.
So does that make it a little clearer how important this football is to me? It is so important that, even though I am not there, I am going to get a season ticket for next season. So that I can come back to The Netherlands and plan it around the matches I really want to see.